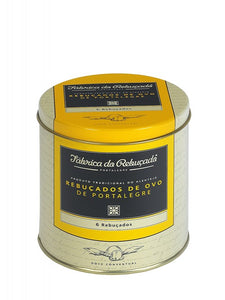 Egg candy is an egg and sugar-based specialty born in the Convents of the Portalegre region, 300 years ago. Today, Fábrica do Rebuçado egg candies delight in their careful preparation and presentation and delight in the top quality ingredients with which they are made. An elegant gift that everyone enjoys receiving, just as perfect for the end of a meal with friends as a dessert or with a coffee.
Expiration date: 1 month after manufacture.
Ingredients: Pasteurized egg yolk, sugar, water, glucose, sweetener (isomalt), stabilizer (gum arabic).
Nutritional declaration: Nutritional value per unit (18g): Energy value: 72.15 Kcal/304.9Kj, of which saturated: 0.69g, carbohydrates: 12.8g, of which sugars: 6.5g, protein: 1.36g, salt: 0.01g.
Net quantity: 200g.