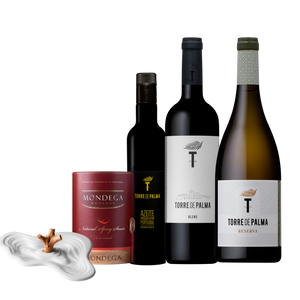 This basket has been carefully thought out and designed to be given to a special person. A gift that brings the flavors of Alto Alentejo to the table and demonstrates the excellence of Alentejo products. The Cortejo Palma basket consists of:
1 Bottle Torre de Palma White Reserve 2021
1 Bottle Torre de Palma Blend Red Wine 2020
1 Bottle of Torre de Palma Olive Oil 500ml
1 Monte das Oliveiras Plate
1 Mondega Gourmet: Natural Hot Sauce
The Torre de Palma Baskets contribute to the sustainability of the region by promoting the authentic and the local through partnerships with small local producers of excellence.
See nutritional information on individual products.