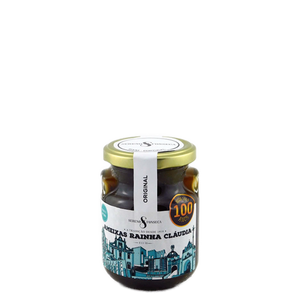 This product features Queen Cláudia plums (100g fruit per 100g finished product) and sugar. Ideal to go with "sericaia" dessert or cheese. Sereno & Fonseca was founded in 1919 and is the oldest Elvas Plums factory still working and the only one that remains faithful to the traditional production process and the original recipe.
Ingredients: Cláudia queen plum and sugar.
Expiry date: 6 months after manufacture
Nutrition declaration per 100g: 236KCAL; Lipids: 0,3g; Sugars: 56,8g; Proteins: 1,1g; Fiber: 2,9g; Salt: 0,1g.